VETERANS' DISABILITY CLAIMS

Military Veterans Deserve Representation To Ensure Proper Compensation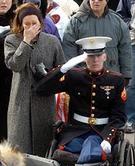 Since the Revolutionary War, the U.S. government has been providing pension and disability benefits to military veterans. The veterans' administration, or what is now known as the Department of Veterans Affairs (the VA), did not become a reality until the 1940's. Congress intended the VA to be non-adversarial, pro-claimant and veteran friendly.
Unfortunately, the veteran's claims process has evolved into a bureaucratic nightmare that is inconsistent with the mandates of Congress. Oftentimes, veterans now face an aggressive and adversarial appeals process. As a result, veterans find it necessary to enlist experienced lawyers to represent them with VA appeals. Professional representation means your lawyer is not simply passing along the claims you want to raise to the VA. Rather, your lawyer analyzes your entire VA claim history and assesses the best and most efficient path to getting you all the benefits you deserve – both those you know about and those you don't. In addition, professional representation means having an experienced advocate assist you in providing sworn testimony at a hearing at the local VARO level or before a BVA Board Member.


As of 2007, a veteran must wait some six months before receiving a decision from
a VA Regional Office ("VARO") regarding a claim for service-connected compensation. Then, if the veteran's claim is denied, the appeals can take another six months to two years before it is forwarded to the next level, the Board of Veterans' Appeals ("BVA") in Washington, DC. Once there, a veteran must wait approximately two years for a decision from the BVA. Similarly, the delay at the U.S. Court of Appeals for Veterans Claims ("CAVC" or "the Veterans Court") on average is also two years. In summary, a veteran can spend ten years or more waiting for the VA to make the right decision.
A veteran himself, James Stanley understands what it means to serve and will fight tirelessly to get you the recognition, respect, and compensation you deserve.
Cal 720-360-0529 to schedule a free consultation.